photo by Corbin Gurkin
We often talk a lot about the pretty package on the inside of a wedding or special event mailing… or even the color and calligraphy on the outside, but stamps are also an important piece of the pretty puzzle.  So, we're sharing some of our favorite ways to use stamps and where to get them. Sometimes  you get lucky and the post office has pretty options available , or sometimes you have to source them- we'll share some of our favorite spots with you. Calligraphy above by Claudia Engle.
photo by Corbin Gurbin
We have really loved the iconic tributes that the USPS has been doing lately.. like the Audrey Hepburn stamps, or recently Oscar de la Renta was featured…
photo by Liz Banfield
Sometimes there are ways to utilize stamps to add a personal touch. This wedding had a flora/fauna theme throughout the design, and the post office happen to have a series of fern frond stamps.. Paired together they were a perfect fit for the outer envelope. And, since the bride was originally from Memphis, we sourced stamps featuring Elvis for the reply envelopes. Calligraphy by Claudia Engle 
photo by Corbin Gurkin
This wedding was taking place at historic yacht club, so finding vintage stamps featuring ships was such a score. Oh, and green was one of the main colors in the wedding palette, so perfect, right?  Envelope Calligraphy by Elizabeth Jones; Invitations engraved by Reaves Engraving
photo by Jessica Claire
For a bride having a fall wedding in Kentucky, finding a eclectic mix of color and composition was a challenge that paid off. We find that Etsy usually has a great selection of vintage stamps. Calligraphy by Claudia Engle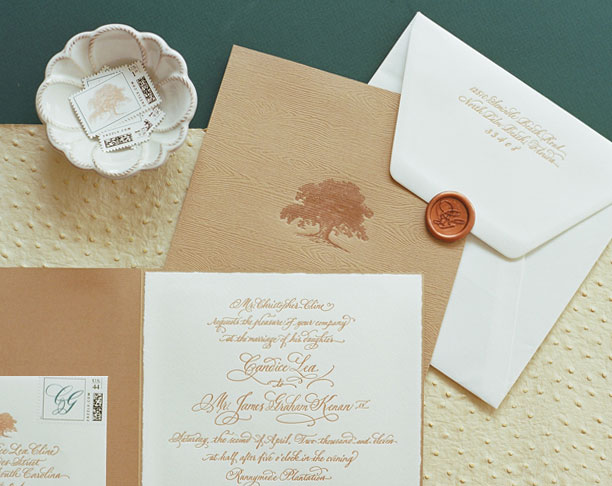 photo by Liz Banfield
Of course, for some clients custom stamps are the way to go. We often use a monogram or emblem we have designed for these. Zazzle.com is our favorite spots for printing custom stamps. Calligraphy by Elizabeth Jones.