photo by Jessica Claire 
When you think of Calligraphy, you think of pretty old fashioned handwriting, right? Who would have known there could be so many styles and fashions of calligraphy. On these envelopes alone, you see everything from a modern "Italic Script" which is done using a felt tip pen, and a pointed pen script, a traditional "Copperplate", and a flourished copperplate, which are done by using a pen and ink well.  Here are many examples and ways we love calligraphy. Calligraphy above by Claudia Engle.
photo by Sylvie Gil
Here, Page Palmer of Penned by Palmer penned this gorgeous flourishy invite suite for us, featuring a full hand lettered invitation, reply card and envelope and outer envelope.
photo by Corbin Gurkin
Claudia Engle also did a full hand lettered invite suite for us, but with a more simple "Rook Script" style and by using an unexpected color this becomes more than just a traditional invitation.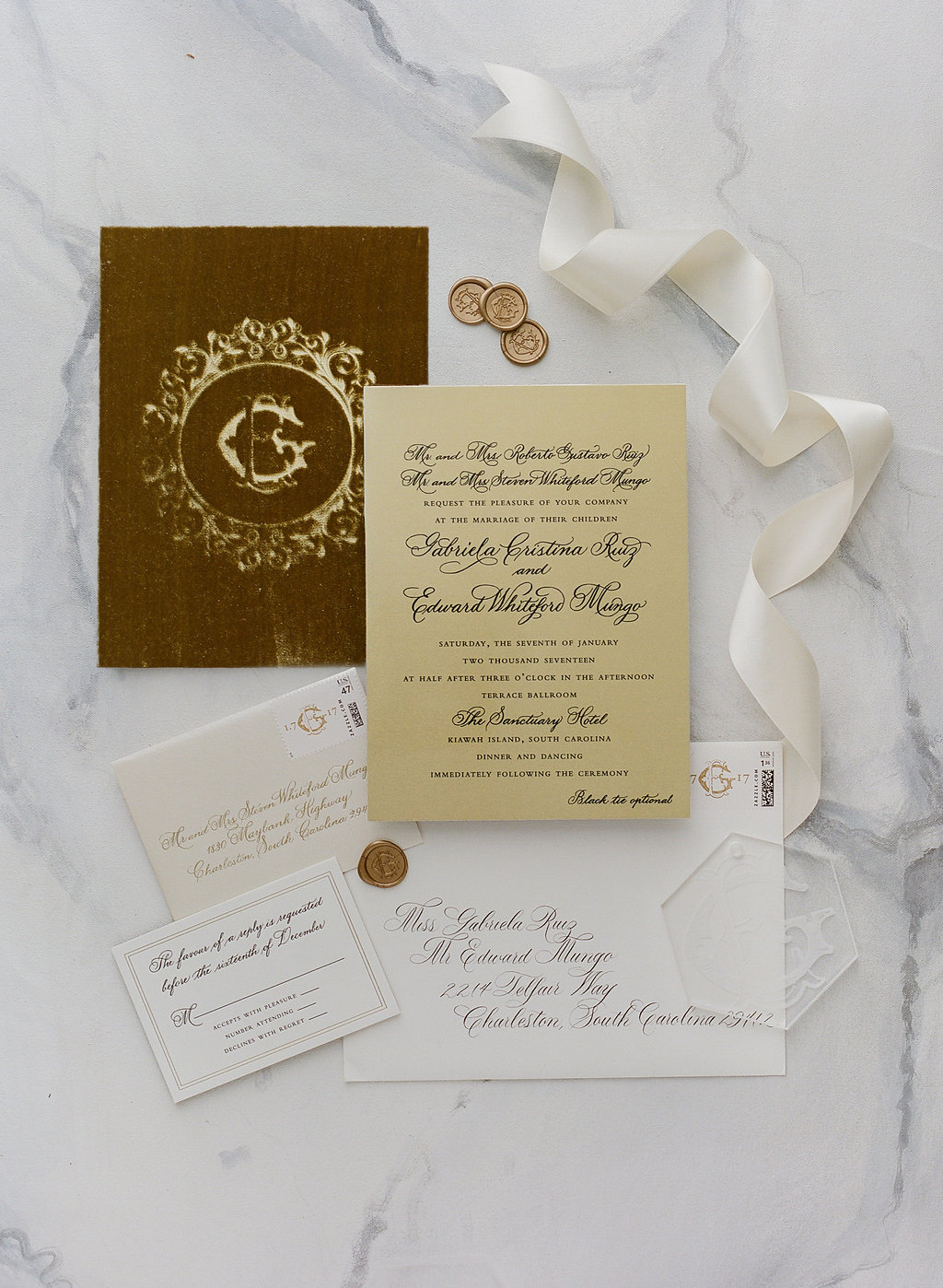 photo by Corbin Gurkin 
This is a popular twist on traditional calligraphy, helping brides wanting a bit more modern feel. We combined a serif font with bits of Page Palmer's romantic and flourishy "Copperplate" lettering for a dramatic invitation that knocked guests' socks off.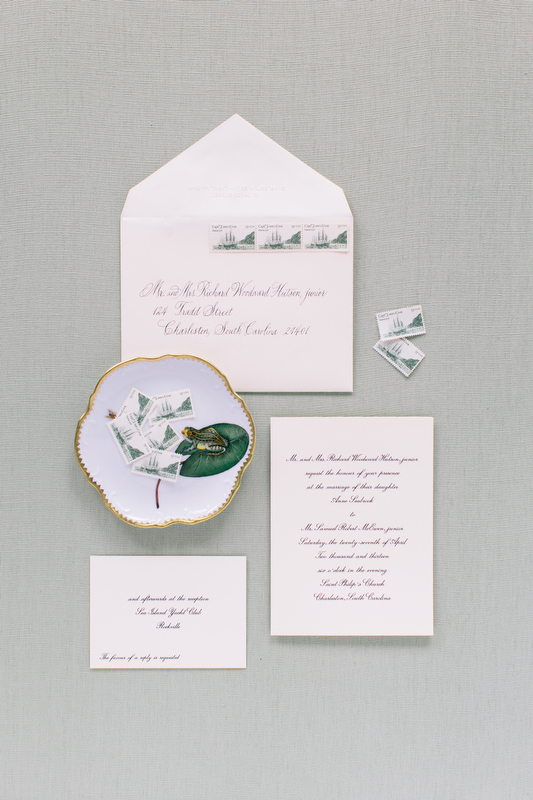 photo by Corbin Gurkin
For the uber traditional bride, nothing replaces "English script" black italic calligraphy engraved on smooth white paper… We like to work with Reaves Engraving or Arzberger Stationers when clients want this style. Combined with traditional "Flourished Copperplate" by Elizabeth Jones on the outer envelopes makes for a lovely package in the mail.
photo by Adrienne Page
Elizabeth Jones' naturally pretty calligraphy was the only "design" needed for this simple save the date.
photo by Corbin Gurkin
You are probably used to seeing escort cards as one of the most traditionally hand written items at a wedding, but we like to see it in many other places also.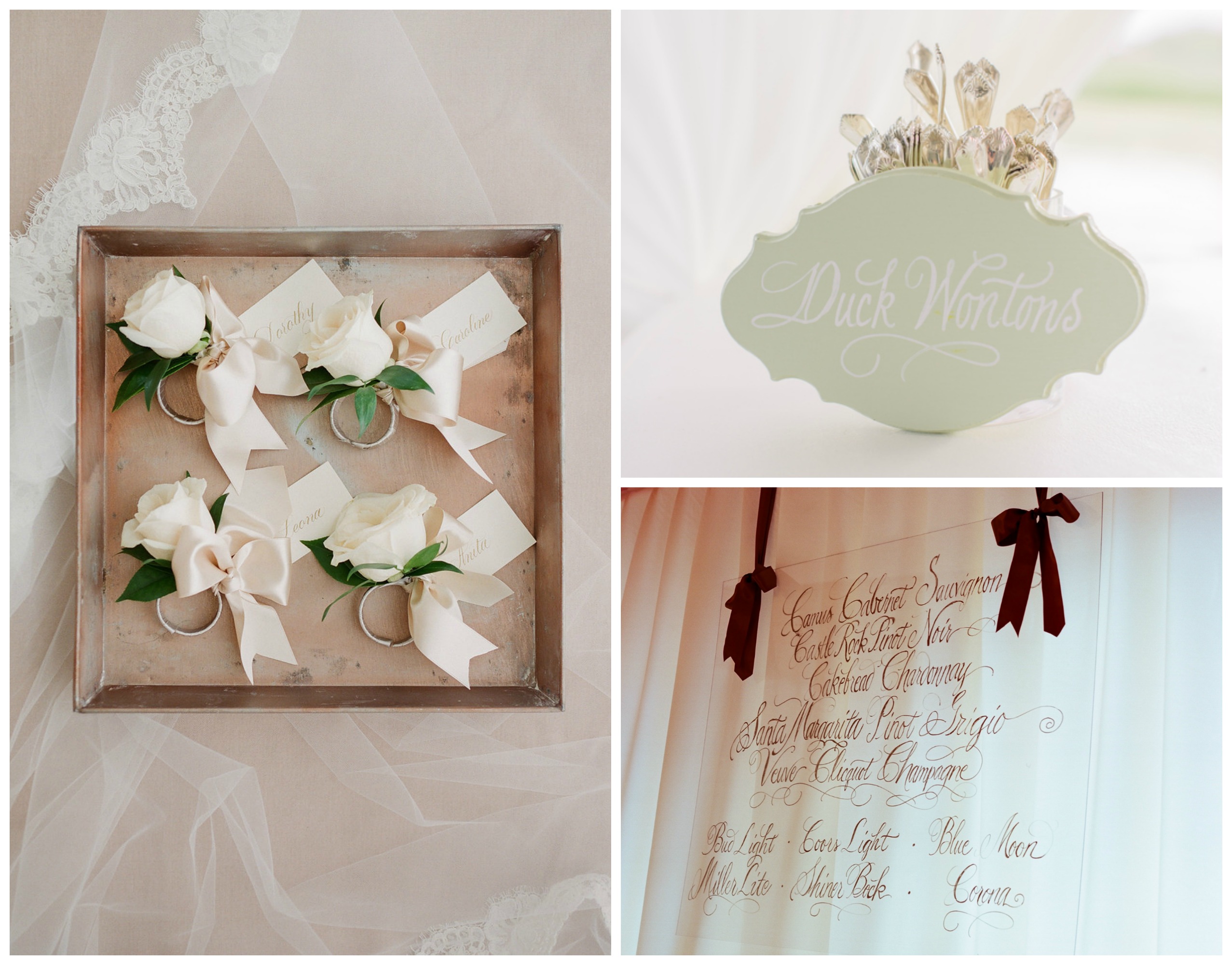 photos by Corbin Gurkin and Liz Banfield
One of our favorite places is in our wedding signage and tags. We love to have pretty calligraphied signage at food stations and for bar signage and menus. Also, we often do simple name tags for bouquets and boutonierres so that all can be accounted for.
Of course, we also love using calligraphy in areas like place cards and menus, as it makes such a lovely addition to a tabletop design.
photo by Liz Banfield
Of course, we love this simple but classic "Just Married" sign, something like this works in any situation!