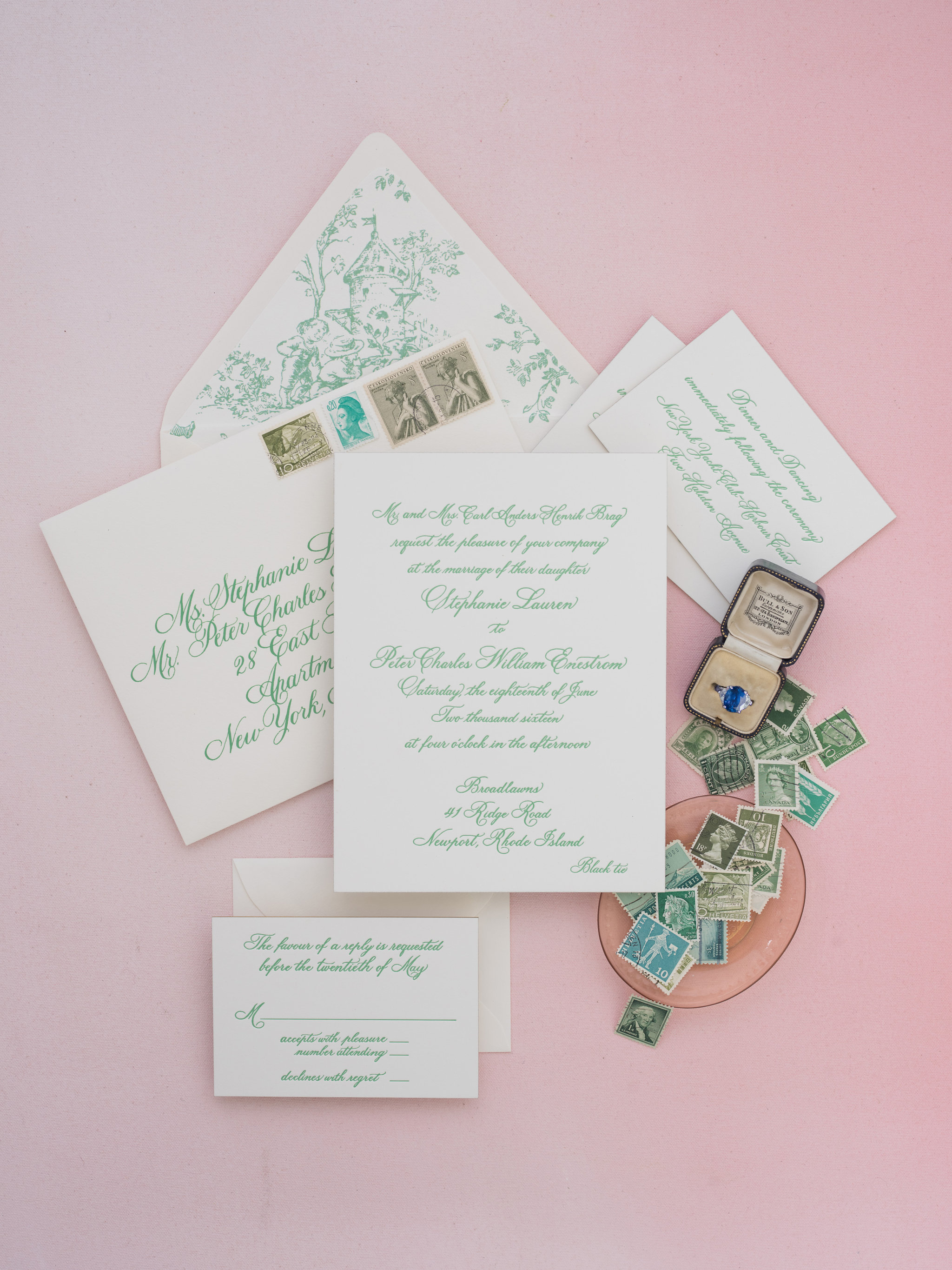 Today, we have a bit of spring fever, so we're sharing one of our favorite pretty pastel weddings from last year. All of the images are courtesy of Corbin Gurkin and Tara Guerard, so we hope you think it's as pretty as we do… For this small spin on a traditional invite, green ink replaces black, and we used a custom toile envelope liner- which you will see again… Calligraphy by Claudia Engle.
Since this wedding was a seaside affair in Newport, Rhode Island, of a couple who lives in NYC, the wedding welcome gifts were a full of details pertaining to both locations. We created a whimsical fish and floral pattern that was embroidered onto the travel laundry bags… of course, the big hit were the custom printed matches.
Something we started doing for Tara Guerard's clients in the early years of Lettered Olive, that have since become a must are our accommodation packets.  These are mailers that we send out as close to the wedding RSVP date as possible (since these pertain to attending guests).  They can be a simple self addressed and pre stamped (usually back to the wedding planner) 1 card/postcard that ask guests to give their hotel or accommodation location, date they will be arriving, how many in their party, etc so that they receive their wedding welcome gifts.  But, for some clients, we also include other invitations such as a welcome party, rehearsal dinner, or a farewell brunch as seen here… And, in which case we can also ask for the rsvp to these events on the accommodation cards. 
Of course, cocktail hour was just a little bit prettier with custom printed tray liners and cocktail napkins.
Tara Guerard designed the escort card station to be like a French market stand. We printed our custom toile pattern on paper that was calligraphied with guests' names and table numbers, and made into cones holding fresh lavender. What a statement for guests to receive while finding their table!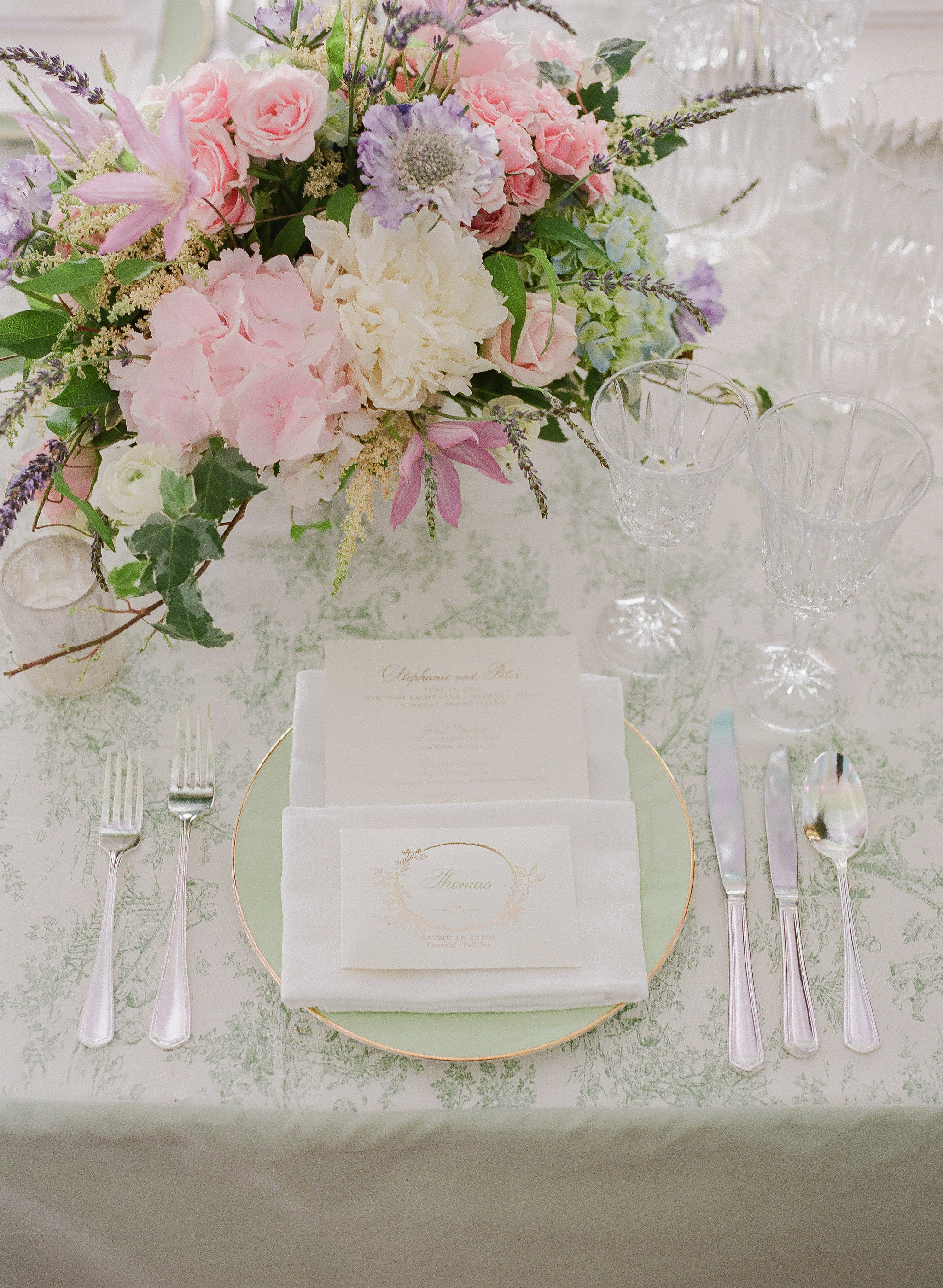 The custom toile pattern was also used to print custom toppers for the table linens. A simple calligraphied menu in gold ink coordinated with the place cards.
Ribbons embroidered with each table number were tied to the chairs.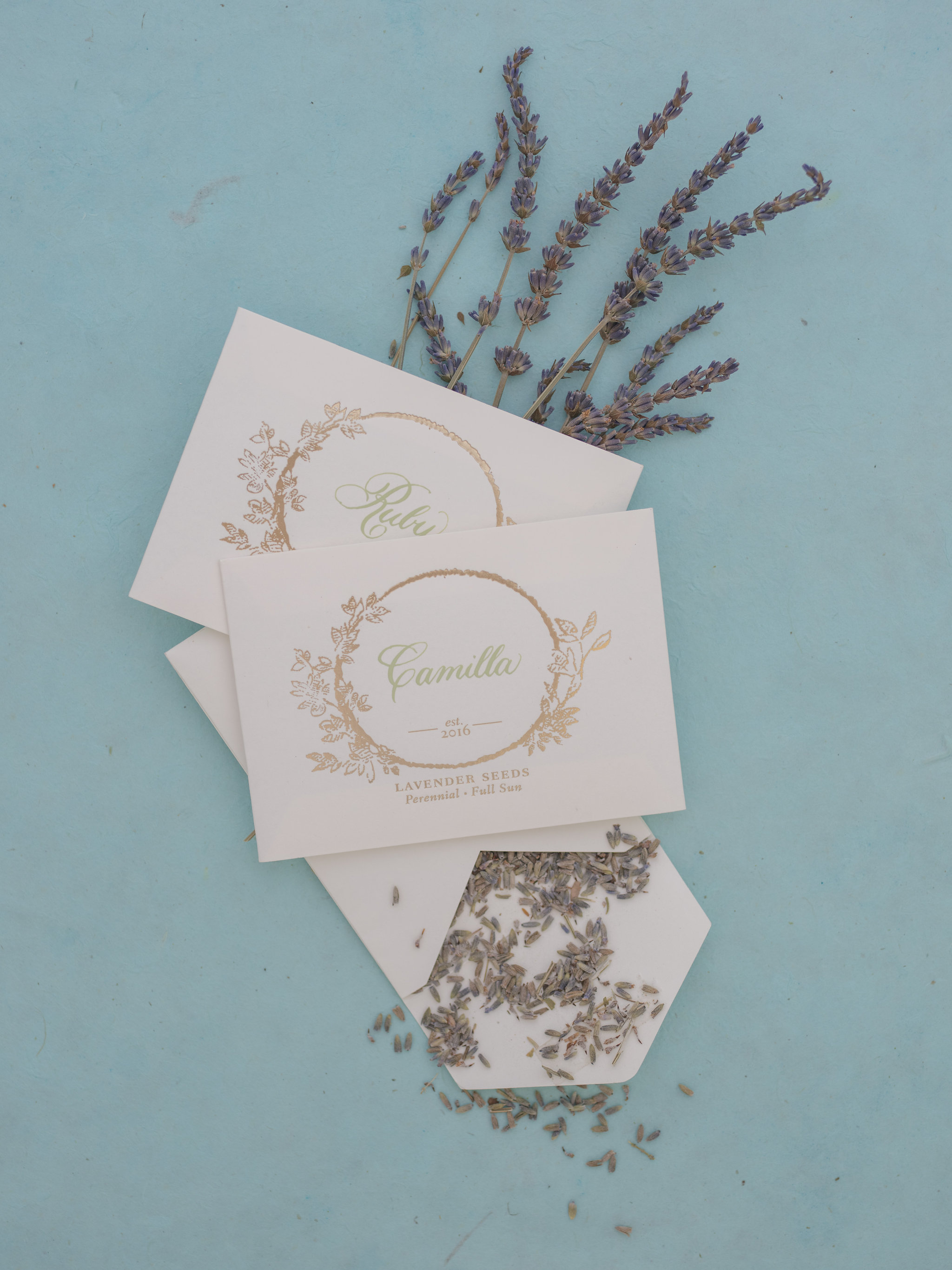 These custom place cards were packets of lavender seeds for guests to go home with, which was just perfect with the cones of fresh lavender!