Our clients for this summertime Kiawah Island wedding had only two details required for their wedding design, the pink and green palette, and floral details. Our graphic designer really had a great time capturing those elements and putting them into a cohesive paper suite. Luxury was apparent early on in the save the dates. Pale pink enclosures included cards with a letter from the couple to their guests, weekend events, and accommodation information. The envelopes were sealed with a custom sticker. All photos from Liz Banfield.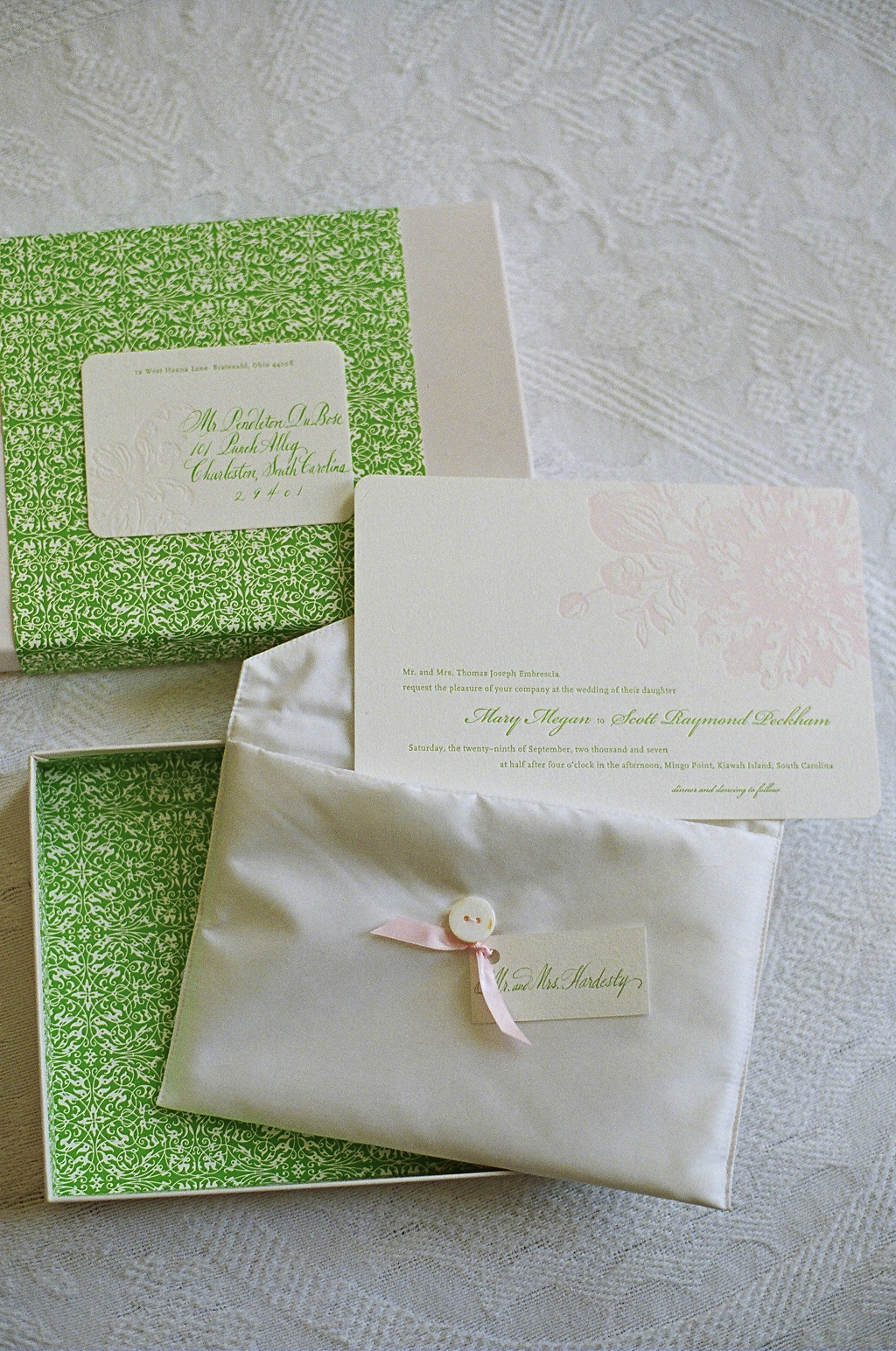 Guests received invitations in boxes lined with a custom green and white floral paper we made specifically for this event. The "inner envelope" was a satin pouch with custom written name tags tied with pink ribbon.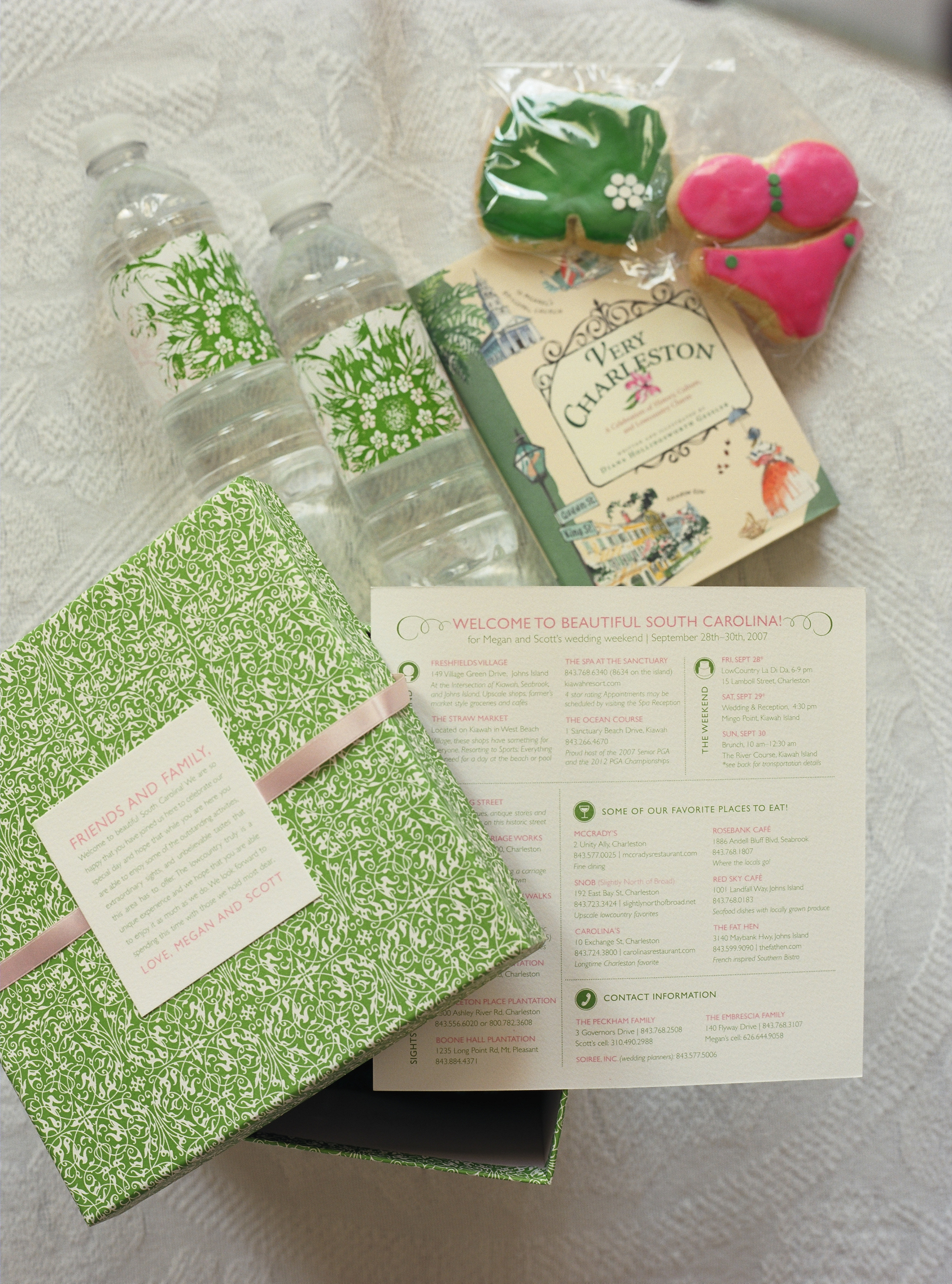 For the wedding welcome, we made boxes out of the custom printed floral paper. Since the wedding would take place at the beach, bathing suit cookies made for precocious goodies. We created a simple card with all of the important information that guests could keep with them.
At the ceremony, letterpress program booklets were stylized with the formal floral design as seen on the earlier printed items. And, to keep guests cool at the outdoor ceremony, custom printed water bottles, and Lowcountry Lemonade (a Tara Guerard Soiree speciality) were displayed with calligraphied signage.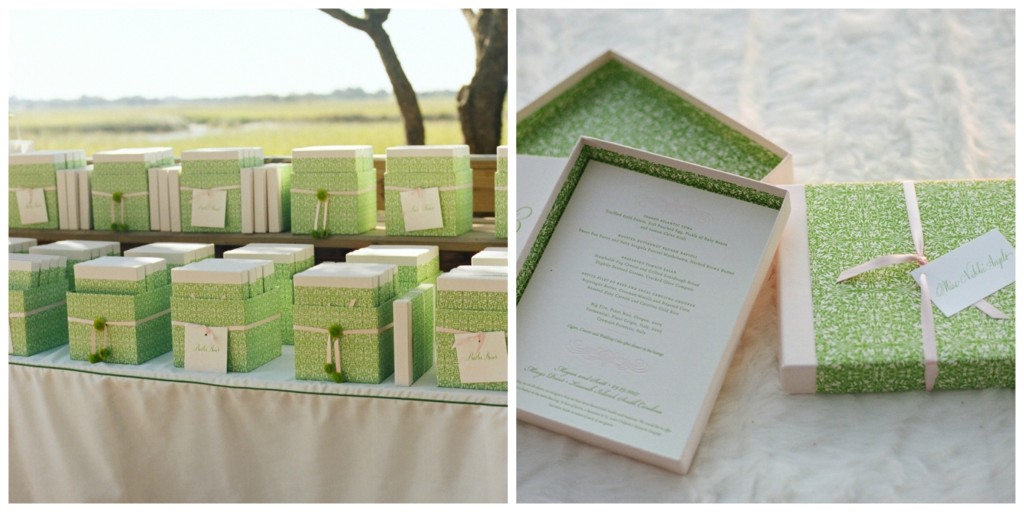 Since we had to print a certain amount of both of the boxes to keep the cost at bay for our clients, the wedding designer had the idea to present the dinner menus in the invitation boxes, and then display alphabetically in the guest welcome boxes.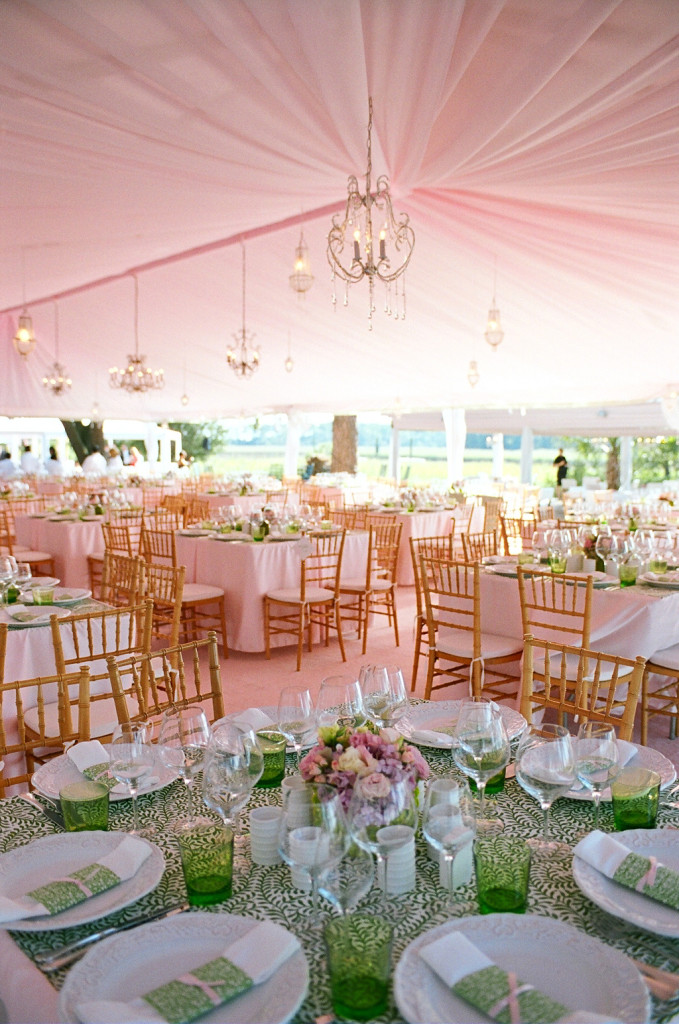 Since guests were bringing their menu boxes to the table, for a total design element, our green and white paper were used as wraps on the napkins, making the place settings perfectly pink and green.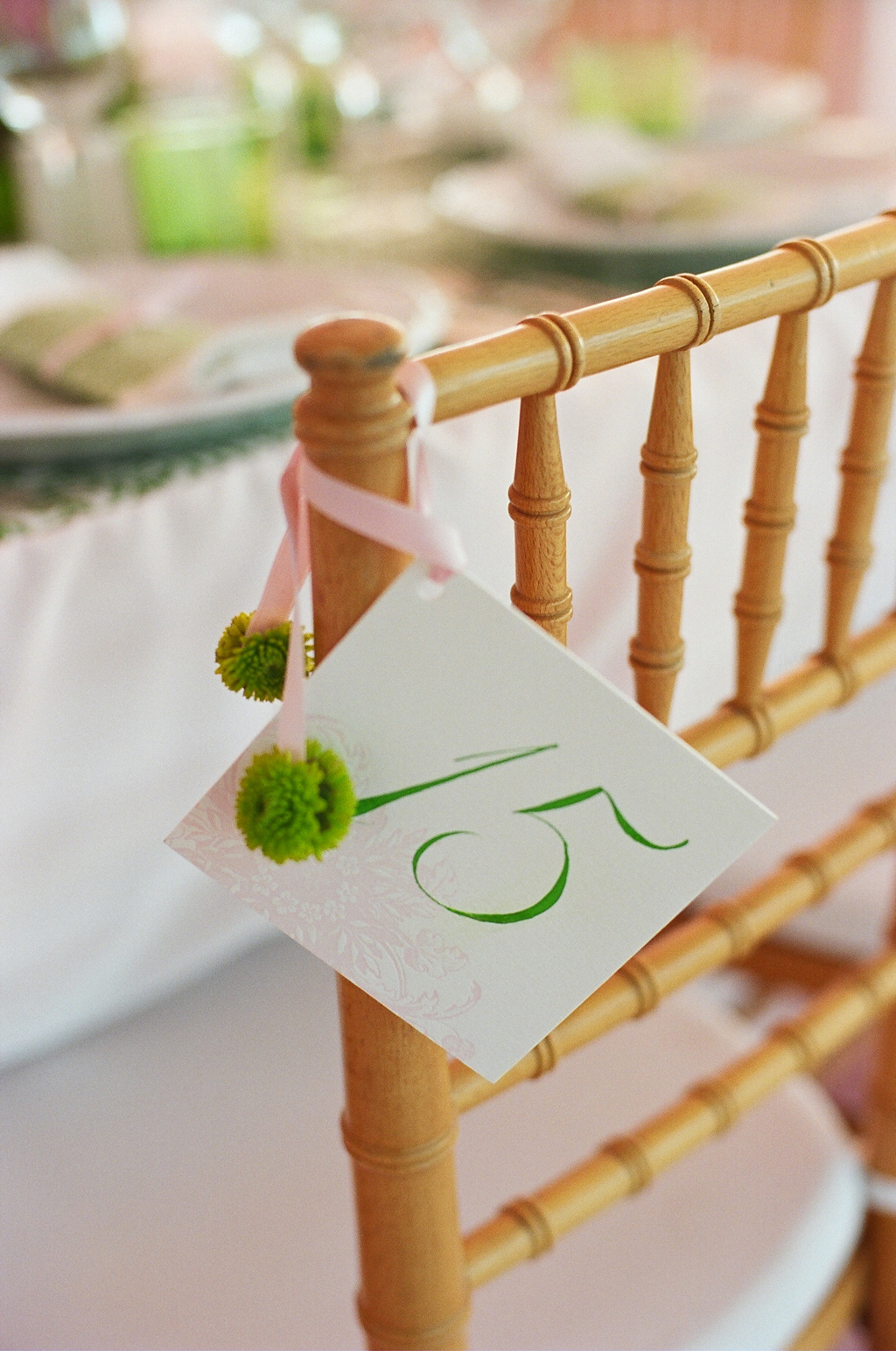 Sometimes the tabletops can get quite crowded and an easy thing to is to utilize the chairs for the table numbers …
There were firepits built into the venue, so we set up S'mores stations for those guests wanting to take a break from the dance floor. Marshmallows were packaged in brown bags with custom stickers.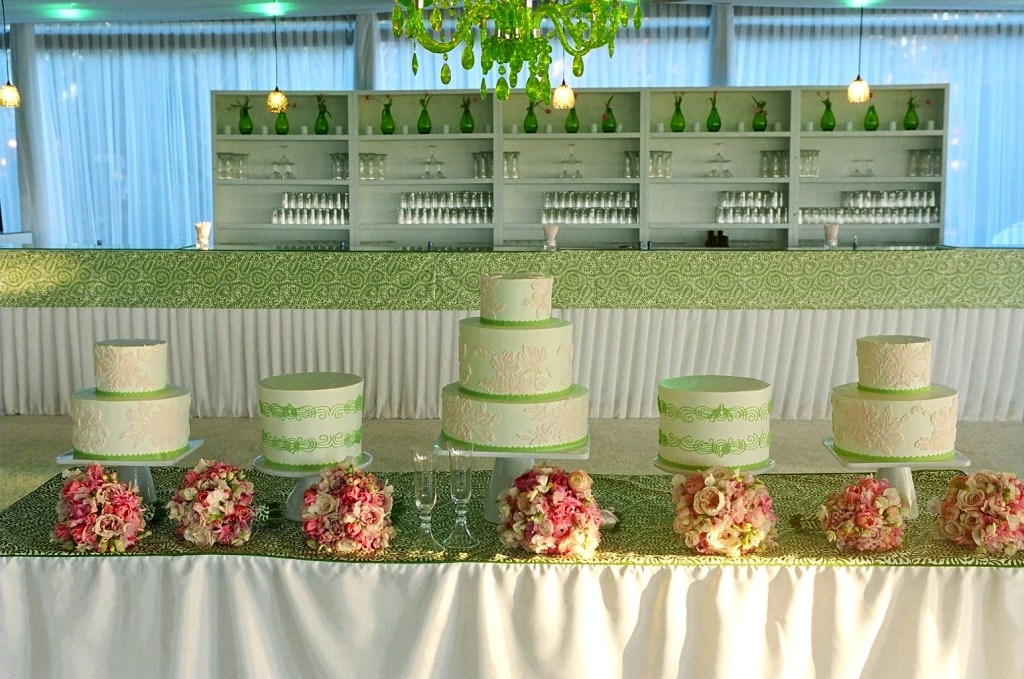 Jim Smeal, the cake baker, took the pattern elements from the printed pieces and replicated them in icing alternating across the five wedding cakes.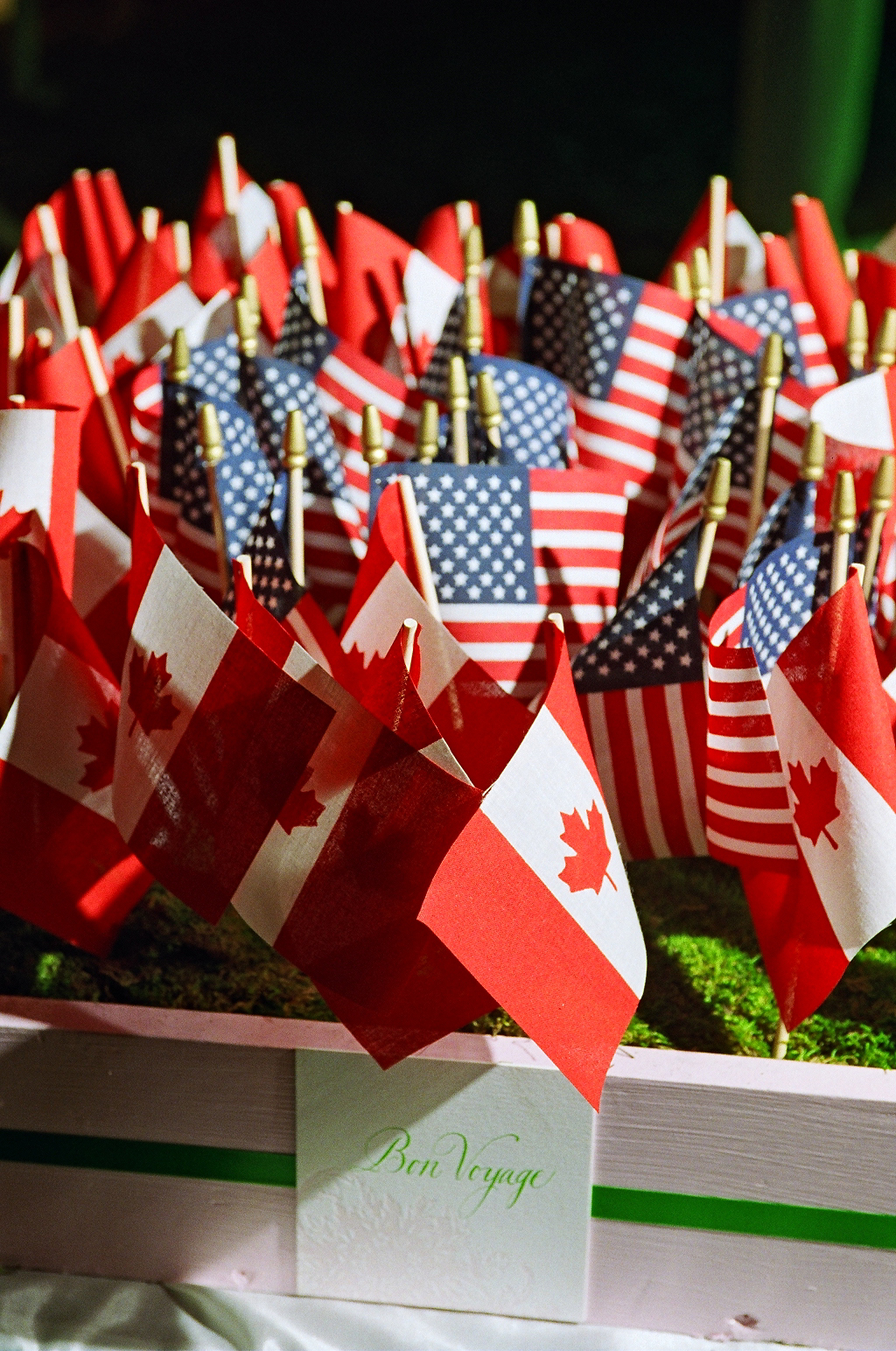 For the send off, and since the groom was originally from Canada, guests waved miniature country flags as they departed…