We loved designing for this fun loving couple… We were able to incorporate lots of unexpected materials and playful phrases.  So, hopefully you will find something fun that inspires you as we take you through the printing pieces from their big day in Charleston, SC. Liz Banfield took all of the photos for us. Starting with the save the dates. Blue being the main color, we etched a pale blue acrylic square and the pop of blue that guests saw when they opened the mailbox was a great kick off to the weekend. Calligraphy by Claudia Engle.
Keeping it tailored and traditional, the invitations were oversized horizontal rectangles… A large diecut belly band featuring the initial monogram and backed in a metallic gold held the reply card with the invitation… Edged in gold and then slipped into a envelope with a custom liner, gold calligraphy topped it off..
One of our favorite new tricks we started doing for clients in our "party packs" are wardrobe tags.  For each party throughout the weekend, we organize it out and provide the description so that packing is a breeze, and when you get to the wedding weekend and unpack, it helps you keep it all straight.
The pattern play on this wedding's party pack gave way to the tropical party weekend in Charleston. Some of the weekend events included an afternoon party on a boat around the Charleston Harbor, an indoor tropical beach party, and a farewell brunch in a bamboo inspired venue.
These wedding welcome bags made quite a statement.  Canvas totes with a matching etched acrylic tag were filled with goodies in custom packaging, a retox to detox kit, and custom water bottles featuring an illustration of the bride and groom. We embroidered bags with each initial and each bag was filled with "his" or "her" favorite things respectively.
Sweet hand lettered tags for each boutonniere made for a pretty photo opp.
Since the couple's reception venue is a world class entertainment venue, we had to create custom signage for the marquees.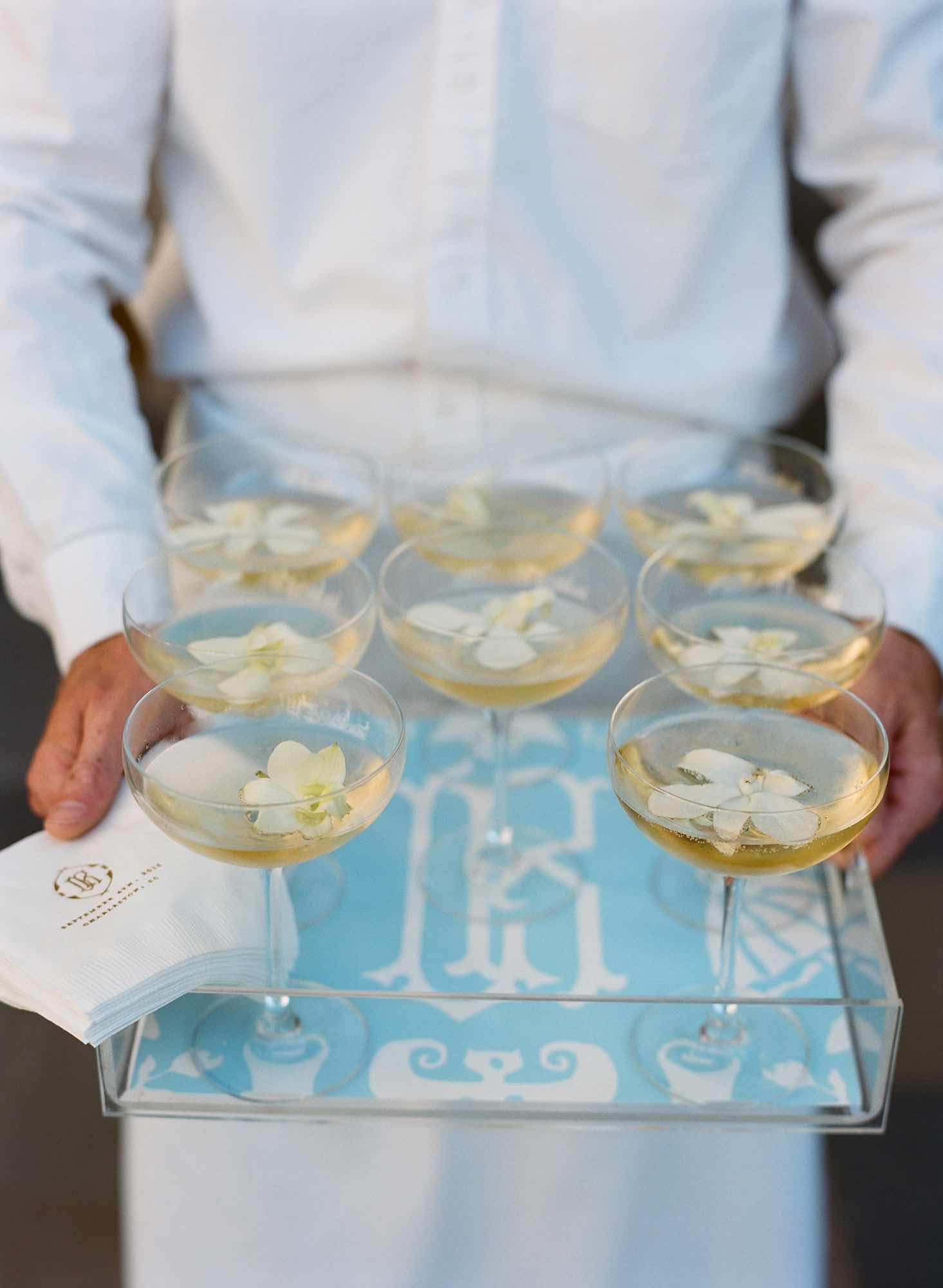 Once guests arrived at the reception, a custom logo we designed was pretty on the passing trays, and gold foiled cocktail napkins completed the presentation.
Other perfect places for the initial monogram were on the ceremonial chuppah, an embroidered linen for the cake table, and on custom made pillows throughout the lounge.
Custom printed bar matches were surcies placed on bars and cocktail tables throughout.
For the end of the evening sparkler sendoff, custom lighters were a last minute take away.
Perfect for this playful couple, a vintage VW bus converted into a photo booth with our custom hashtag signage was such a fun addition. We created custom printed vellum envelopes so that guests could take home photos.