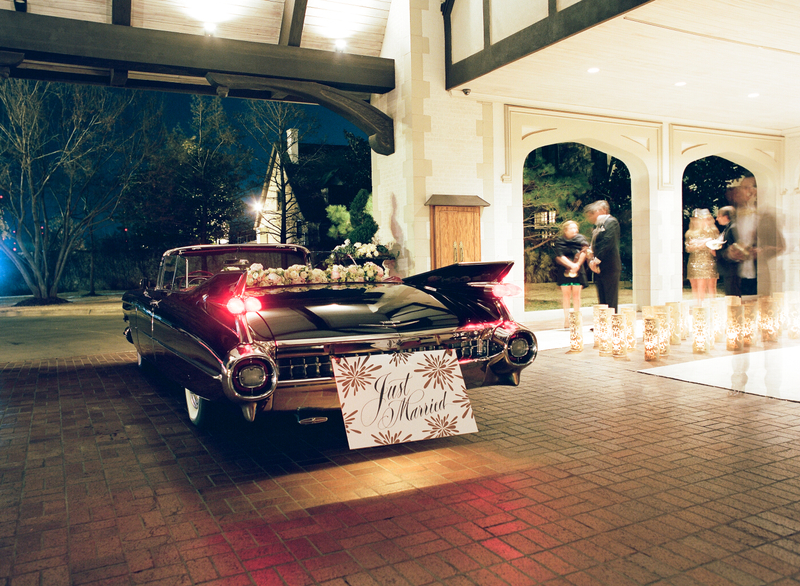 photo by Liz Banfield 
Right after the New Year, we always find ourselves excited for all of the new couples getting married in the upcoming year. In the spirit of the festive time winding down and a new one just getting started, we are sharing a roundup of our favorite just married moments.  The above is from a New Year's Eve wedding where we did all of the printing with a bit of a "fireworks" theme… We thought of this just married moment as the last big blow out so fireworks were appropriate.
photo by Gayle Brooker
This wedding featured "Mr and Mrs." silhouettes of the bride and groom on their invitations, cocktail napkins, and the die cut getaway sign.
photo  by Liz Banfield
Sometimes simplicity does the trick… a simple calligraphied "Just Married" adorned this convertible as the bride and groom rode off to coordinated fireworks…
photo by Corbin Gurkin
Don't forget about the golf cart getaways! Also, a great tip here, if you are planning on using a just married sign, make sure you or your wedding planner determines the best fit or attachment method based on the vehicle your are planning to use.
photo by Corbin Gurkin
This sign, making the date the focal point, was featured in the recent Charleston Weddings Magazine
photo by Liz Banfield
For this pretty and feminine wedding, a die cut shape, floral accent, and pink calligraphy fit the big…
Some of our other favorites have included glittered lettering, wedding hashtags, and custom cans and ribbons…