The time has come again where the stars get dressed up and we drool at the marvelous designer gowns. The 2013 Emmy awards displayed both classic and trendy fashions statements – but all we could see were invitation designs! See our top picks below and how to incorporate your favorite look into your event invitation design.
#5 – January Jones
January's blush lace design, by Givenchy, screams die cut! Belly bands, invitations sleeves, envelopes – we can't get enough!
#4 – Claire Danes
Claire looks dazzling in Armani Prive. The stunning back on the dress and nude floral design have us thinking pattern-backings! A great floral design can classic. It adds a timeless aspect to the backing of your invitation.
#3 – Katrina Bowden
Tall and stunning, Katrina is a beauty in Badgley Mischka. Her  belt appropriately inspired us of geometric belly bands. Modern geometric patterns have popped up in all of our favorite shops this summer. It is no surprise that they made their way into the print world!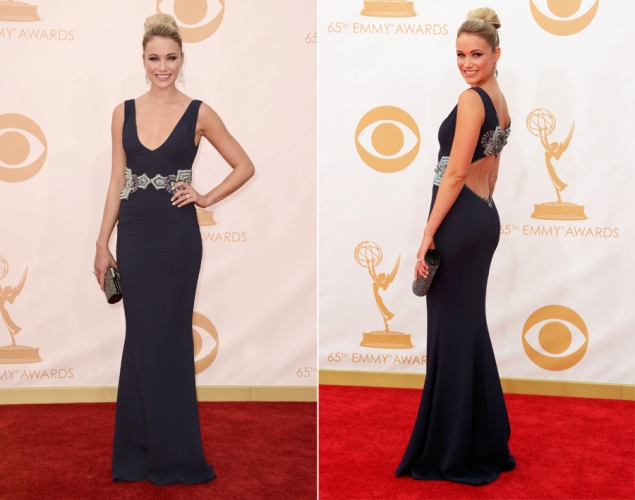 #2 – Kiernan Shipka
Kiernan lights up in this fun, age appropriate floral gown, reminding us that sometimes you need to add a little fun to the mix! Pops of color and fantastic type can turn any invitation into a guest's most anticipated rendezvous!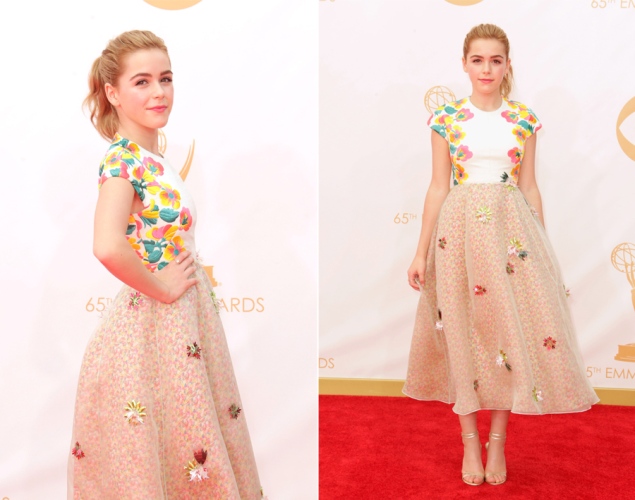 #1 LO's Best Dressed – Maria Menounos
Stunning in Zac Posen, Maria takes the cake for best dressed at this year's Emmy Awards. After ooo-ing and ah-ing over her perfect-fit, midnight blue gown, we couldn't take our eyes off of her stunning necklace. It adds an element of surprise and texture to the this flawless dress. Maria's look displays how a little pop of color or pattern can take great to amazing – whether it's in fashion or invitation design!