One of my favorite parts of my jobs is getting to work with our creative and wonderful retailers! Rachel Kress (Cloud Nine Bridal Boutique + Fine Paper in Peoria, IL) is particularly creative and wonderful! We had the privilege of working with her and her marketing firm, The Design Farm, to create an invite for her boutique opening.

I mean brides, who wouldn't be inspired by beautiful space??
We did a little Q+A with Rachel and with Amy from Design Farm. Here's a little more about Cloud Nine!
Lettered Olive : Tell me about Cloud Nine! What made you decide to open your boutique?
Rachel: I have always had a love for fashion and retail and always wondered why Central Illinois didn't have an upscale bridal boutique … I want girls to walk in and feel like the rest of the world is a million miles away. Everyone that walks into Cloud Nine mentions how the store feels so relaxing and calm … exactly how I want a bride to feel.

Rachel chose to use the Calhoun Collection for her Grand Opening Party invitation
LO : Where do you find inspiration?
Rachel: I worked with The Design Farm, a small marketing firm in Peoria, and I knew that they could capture exactly what I was hoping for. Amy and I are both inspired by the Anthropologie look and feel …
Amy: Rachel's boutique was a dream project for us, getting to be involved from the very beginning and helping her with the name, logo, and the overall look and feel of the shop's materials. Rachel had a great idea of what she wanted from our first meeting, being inspired by a wedding venue she had just visited in Arizona as well as Anthropologie's aesthetic.
Some of my favorite online places to find inspiration are:
http://ohsobeautifulpaper.com/

and my latest addiction: http://pinterest.com/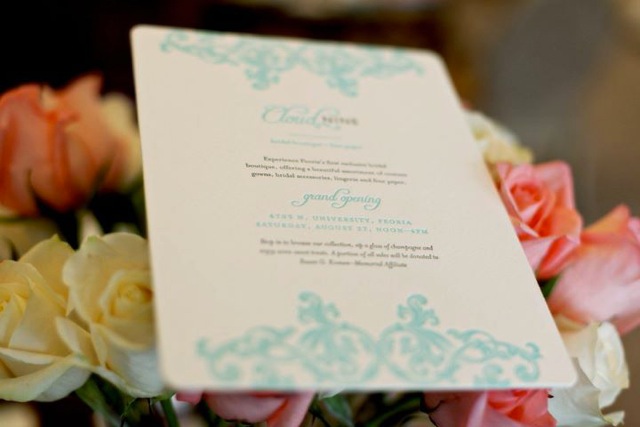 LO : What are some must-do's if we're in Peoria?
Rachel: I love Peoria and all that it has to offer, but especially Junction City and Peoria Heights. A few of my favorite restaurants include Cyds, June and Jim's Bistro. Junction City offers some great shopping, which include my favorite, Belle Mie!
LO: What Lettered Olive invite are you most excited about?
Rachel: I have been in love with the Middleton invitation suite and can't wait to see it. However, there is not one that I don't truly dream about!
We just love working with Cloud Nine and are so lucky to have them as Lettered Olive retailer. We're working on a rustic-chic-bold (…yes, all 3! its going to be amazing!) invitation suite right now. So looking forward to sharing those pictures soon!
Happy Wednesday!